Annual Events

Event Suggestions
Have you been to an event recently that really impressed you? Did you hear about a talented group we should bring to Sanborn? We want to know! Please email your suggestions to sanbornchamber@gmail.com
Annual Meeting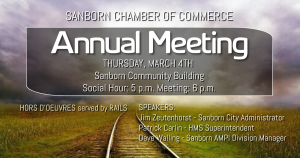 Chamber members are invited to attend the annual meeting for a discussion of our current intentions and upcoming business. Members have the opportunity to network with other local business members.
NO CHILI COOK-OFF 2021!!
Chili Cook-off 2020!
Thank you, thank you to everyone involved in the 3rd Annual Chili Cook-off!
Thank you to each of our participants!
Thank you to the Mi'Ono Ladies for donating and serving Ice Cream!
Thank you to AMPI for donating and serving Grilled Cheese Sandwiches (also for your 4 Chili entries! Wow!)
Thank you to Vander Haag's Yesterday's Memories for allowing us to use your facility but also to your staff for all their hard work preparing and tearing down!
And Thank you to the Community for your support and joining us for a fun evening!
Congratulations to our winners:
People's Choice Best Chili - Alan and Briana Visser (Visser Gravel)
People's Choice Best Team Theme - Sanborn Savings Bank
Judges Choice Best Chili - Sanborn Hardware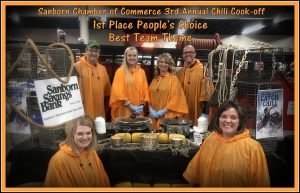 Ladies Night Out
2021 was the 1st year that Sanborn Chamber partnered with Sanborn Hardware and Zandstra's Greenhouse to host Ladies Night Out. Zandstra's & Sanborn Hardware sponsored Succulent Planting. We gathered 12 Vendors and 1 clothing boutique to Yesterday's Memories Museum for a fun night out of the house for woman only. We're already brainstorming new ideas for 2022!
Ladies Night Out Vendor Registration Form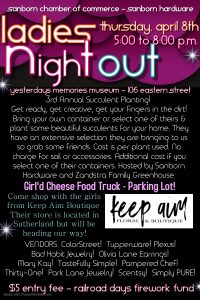 City Wide Garage Sales
Chamber of Commerce organizes the City Wide Garage sales, creating an advertising opportunity for all participants.
Railroad Days Celebration
Our annual celebration (held the fourth weekend of July) is a fun filled weekend that entails activities for all ages. Activities vary every year, with fireworks hosted biannually.
SAVE THE DATE! - Railroad Days 2021 - July 23, 24, 25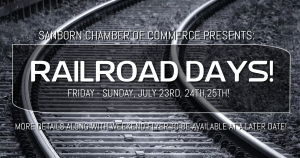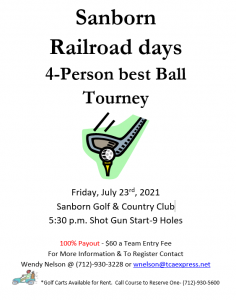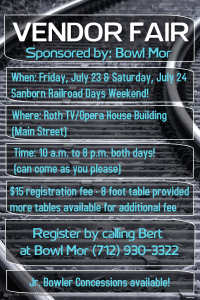 Fall Festival
A growing event year by year! Event includes pumpkin decorating contest and vendor show!
We are always looking to expand this event!  Let us know if you have any ideas, we would love to hear them!
We need to THANK everyone involved in making our 2020 Fall Festival Vendor Show run as smooth as it did -
Yesterday's Memories Museum for allowing us to use their facilities, also for all their help setting up and tearing down.
Mi'Ono Ladies for their time and effort providing lunch.
Vendors and Crafters - Thank you for venturing to Sanborn. We were pleased with such a variety of items for sale.
And our attendees, Thank you for coming and helping make our Vendor Show successful. We were very pleased with the amount of people who came through the doors.
Thanks!!
Hometown Christmas
A weekend full of Holiday Spirit! Participating Business open their doors to the community for their Holiday Open Houses, Community Lighting Contest, and let's not forget that Santa makes his entrance to town!!