Annual Events

Event Suggestions
Have you been to an event recently that really impressed you? Did you hear about a talented group we should bring to Sanborn? We want to know! Please email your suggestions to sanbornchamber@gmail.com
Annual Meeting
Chamber members are invited to attend the annual meeting for a discussion of our current intentions and upcoming business. Members have the opportunity to network with other local business members.
Thank you, thank you to everyone involved in the 3rd Annual Chili Cook-off!
Thank you to each of our participants!
Thank you to the Mi'ono Ladies for donating and serving Ice Cream!
Thank you to AMPI for donating and serving Grilled Cheese Sandwiches (also for your 4 Chili entries! Wow!)
Thank you to Vander Haag's Yesterday's Memories for allowing us to use your facility but also to your staff for all their hard work preparing and tearing down!
And Thank you to the Community for your support and joining us for a fun evening!
Congratulations to our winners:
People's Choice Best Chili - Alan and Briana Visser (Visser Gravel)
People's Choice Best Team Theme - Sanborn Savings Bank
Judges Choice Best Chili - Sanborn Hardware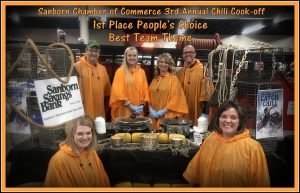 City Wide Garage Sales
Chamber of Commerce organizes the City Wide Garage sales, creating an advertising opportunity for all participants.
Railroad Days Celebration
Our annual celebration (held the fourth weekend of July) is a fun filled weekend that entails activities for all ages. Activities vary every year, with fireworks hosted biannually.
Railroad Days 2020! -
Dear Sanborn Community,
Due to the uncertainty surrounding the situation and timing of the Covid-19 pandemic we have decided to cancel this year's annual Railroad Day's Celebration! We did not make this decision lightly but thought that if we were to hold our celebration it could or would be affected adversely! After all,who wants a celebration that probably would not be what we have come to know and love? We thought by making this decision now we could start planning for a bigger and better Railroad Days 2021! It ultimately came down to timing,because no one really knows what things will look like come the end of July,example, more restrictions, less restrictions, social distancing guidelines. The chamber still wishes to have a few events this summer, and we will keep you informed as to what and when. We thank you for your understanding and continued support, and hope you all have a safe and happy summer! Remember our slogan, Our People make the Difference!
Sanborn Chamber of Commerce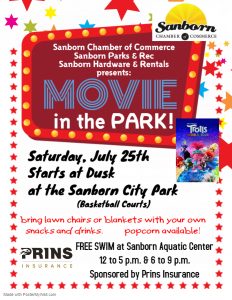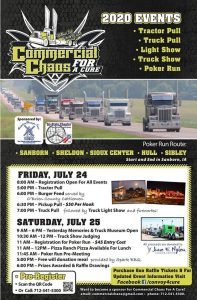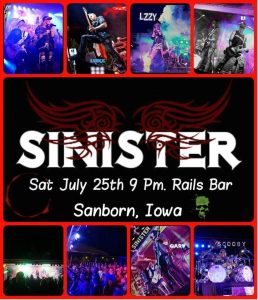 Fall Festival
A growing event year by year! Event includes pumpkin decorating contest and vendor show!
We are always looking to expand this event!  Let us know if you have any ideas, we would love to hear them!
Fall Festival Vendor Show Information 2019
Fall Festival Vendor Registration 2019
PumpKIDfest 2019 Coloring Sheet Toddler-Kindergarten
PumpKIDfest 2019 Coloring Sheet 1st-5th Grade
PumpKIDfest 2019 Coloring Sheet - Adult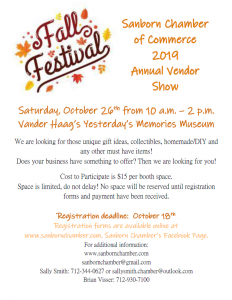 Hometown Christmas
An evening full of Holiday Spirit! Participating Business open their doors to the community for their Holiday Open Houses, Annual Christmas Fair, community lighting contest, and let's not forget that Santa makes his entrance to town!!